"Galavant (Isabella Reprise)" is a reprise of "Galavant" sung by Isabella and Galavant in the Pilot.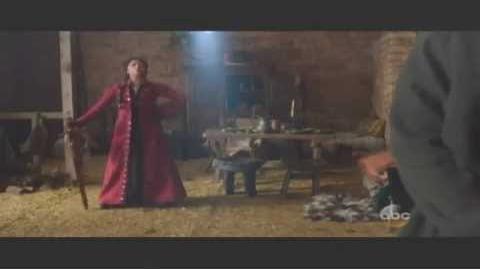 Lyrics
Isabella: Where is the gallant knight?
Who stood for truth and right?
The valiant dragon slayer, Galavant
Where is his steely gaze?
The abs the poets praise?
Whatever happened to that Galavant?

Galavant: The man you're searching for
Lost all he loved and more
His hope, his pride, all sense of Galavant
Add to that losing streak
A couple kegs a week
Plus twenty pounds, ta da!

Isabella: No!
Galavant: Yep!
Isabella: But you're!
(Galavant burps)
Isabella: Still, you have to-
Galavant: No I don't.
Isabella: But-
Galavant: See ya!
Isabella: Wait, how will I-
Galavant: No idea!
Isabella: Please
I'm begging on my knees
Galavant: Bye bye!
Isabella: I'll pay whatever fee
Galavant: Still here?
Isabella: We're lost without you, Gala-Wah!
(Galavant shoves Isabella out the door)
Gallery
Ad blocker interference detected!
Wikia is a free-to-use site that makes money from advertising. We have a modified experience for viewers using ad blockers

Wikia is not accessible if you've made further modifications. Remove the custom ad blocker rule(s) and the page will load as expected.