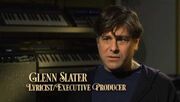 Glenn Slater is an American lyricist who frequently collaborates with composer Alan Menken. Film credits include Tangled and Home on the Range and stage credits include Love Never Dies (a follow-up to Phantom of the Opera), as well as adaptations of The Little Mermaid, Sister Act and A Bucket of Blood ("Beatsville").
External Links
Ad blocker interference detected!
Wikia is a free-to-use site that makes money from advertising. We have a modified experience for viewers using ad blockers

Wikia is not accessible if you've made further modifications. Remove the custom ad blocker rule(s) and the page will load as expected.