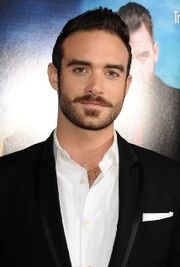 Joshua Sasse is a British television and film actor. Joshua portrays Galavant in Galavant.
Biography
Joshua Sasse plays the title role in the comedy extravangza "Galavant," created by Dan Fogelman with music and lyrics by Alan Menken and Glenn Slater.
Born in London, Sasse spent his early childhood in Nepal before returning to England for his education and his theatre training at the age of 15, first at Hurtwood House and then at Peter Brooks Cygnet Training Theatre. After nine years of working in the theatre - including the West End - Sasse moved his endeavor to film and television, landing his first role in the 2010 British film "The Big I Am," and then the horror film "Frankenstein's Army" before starring in the DirecTV drama series "Rogue."
Sasse currently lives and works between London and Los Angeles.
Ad blocker interference detected!
Wikia is a free-to-use site that makes money from advertising. We have a modified experience for viewers using ad blockers

Wikia is not accessible if you've made further modifications. Remove the custom ad blocker rule(s) and the page will load as expected.