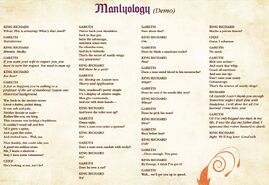 Manlyology is a song written by Glenn Slater and Alan Menken[1] which was intended to be featured in the episode Joust Friends. Performed by "professor in the art of manhood" Gareth, it was his attempt to give King Richard "a makeover." The scene was tested, it was decided that it was the wrong point in the story or Gareth to break into song and so the number wound up getting cut.[2]
References
Ad blocker interference detected!
Wikia is a free-to-use site that makes money from advertising. We have a modified experience for viewers using ad blockers

Wikia is not accessible if you've made further modifications. Remove the custom ad blocker rule(s) and the page will load as expected.