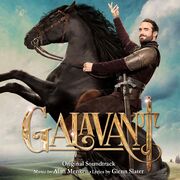 "Galavant (Original Soundtrack)" is an album comprised of songs from the first season which was digitally released by Hollywood Records on January 19, 2015. In addition to the digital version,[1][2] it's also been made available as a burn-on-demand CD-R at amazon.[3]
  Although there are several extra verses, fans have been overwhelmingly critical of the omissions of numerous songs (22 songs are missing, including various reprises and "Man-e-ology").
Track Listing
Notable Deviations
In various instances, the songs deviate from the versions which appear in the episodes, with slightly different lyrics, sound mixes, and vocal takes.
Galavant - This is the same version that is utilized in the final cut of the episode. What's notable is that the original version that was released[4] included alternate lyrics and vocal takes.
Oy, What a Knight - Features a different sound mix, and several on-location takes were utilized in the episode.
Togetherness - Includes an additional verse and alternate vocal takes.
Comedy Gold - Includes the studio vocal recordings; in the episode, many live takes were utilized. There are also some lyrical deviations and extra bits.
Lords of the Sea - Includes additional verses.
No One But You - Includes an additional verse.
Hey, Hey, We're the Monks - The song is not heard in its entirety in the episode. Includes a different opening and some lines that the characters talk over.
If I Could Share My Life with You - Includes an additional verse
A Day in Richard's Life - In the episode, they utilized the actors' on-location vocals during Kingsley's initiation ceremony.
Love is Strange - Features the studio recordings. In the episodes, they were blended with on-location takes.
Goodnight My Friend - Features the studio recordings. In the episodes, they were blended with on-location takes.
Omitted Songs
References
Ad blocker interference detected!
Wikia is a free-to-use site that makes money from advertising. We have a modified experience for viewers using ad blockers

Wikia is not accessible if you've made further modifications. Remove the custom ad blocker rule(s) and the page will load as expected.